Saffron Walden with Jane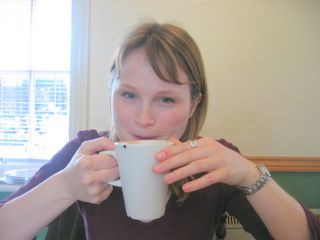 Jane with a hot chocolate... with marshmallows!

Jane came over yesterday and we went out for hot chocolates and crumpets. We came to the conclusion that we must have burnt off about 80 times as many calories the night before as we were eating.
We wandered about the market and all the little shops :) And bought rings. I think I may have found another shopping buddy.. next time we'll be after dance shoes though!
We spent a good hour talking solidly about Ceroc, and realised afterwards that for anyone who didn't understand the buzz of it the whole conversation would have been intensely boring. Good job we both understand really..